By TED Talks
Cristal Montanez Baylor
is the Executive Director of Hashoo Foundation USA. She leads initiatives to promote Hashoo Foundation's Women's Empowerment through Honey Bee Farming Project - "Plan Bee"- in the US. The project empowers women in the remote Northern Areas of Pakistan by expanding employment opportunities and generating a stable source of income through the sale of high-quality honey. The project is the winner of the prestigious
World Challenge 08 Award competition
sponsored by
BBC and Newsweek in association with Shell
, and it is a
featured commitment on the Clinton Global Initiative
website. Cristal believes that expanding income generating programs will strengthen the communities and help prevent the influence of extremism in Pakistan.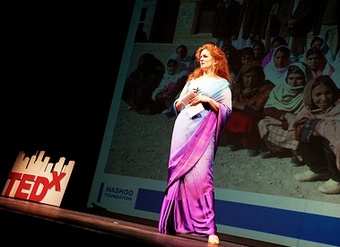 Picture courtesy of Lemon Photo.
Culture Map Houston
Cristal of the Hashoo Foundation preaches a different kind of sustainability. Her foundation teaches women in Pakistan the bee keeping biz as long as they keep their children in school, creating a new generation of learners.